For those that don't know, the Colorado "14'ers" are the 58 mountains in Colorado, USA that have an elevation of 14,000 feet or more. All 58 are climbable, but range in difficulty from a few miles hiking and a few thousand elevation gain to all day affairs and technical climbing. As of 2020 I have summited 8 of the 14'ers, I'm 47 years old and live in flatland Texas, so they are obtainable for a significant % of the population. If you can run a 10k and aren't too susceptible to altitude sickness, you can handle many of the 14'ers.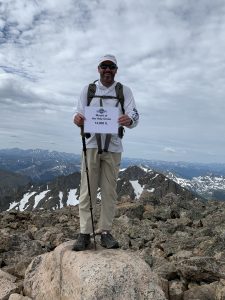 I recommend newbies with no big mountain experience, to hire a guide at first like I did. Two companies I have used areColorado Wilderness Rides and Guides and Paragon Guides. Once you get some experience, then you can start trying some of the easier climbs on your own, like I did this year.
The absolute best resource for climbing the Colorado "14'ers" is https://www.14ers.com/. The website has all the climbs listed by difficulty, GPS routes, hiking notes, and a forum to ask your questions and learn. There are a couple Facebook pages as well 14ers.com Facebook and Colorado 14ers Facebook. A great site and app to research available hikes in a certain area with GPS trails is AllTrails. You can start out doing some flatter hikes and work up doing 10k, 12k, and 13k climbs before going for the 14'ers. Many of the lower elevation hikes are more fun as they can be just as pretty and not as crowded. It just takes experience to learn best practices for clothing, shoes, hydration, calories, and what to pack. You can do it!
Here are some of my 14'er pics.